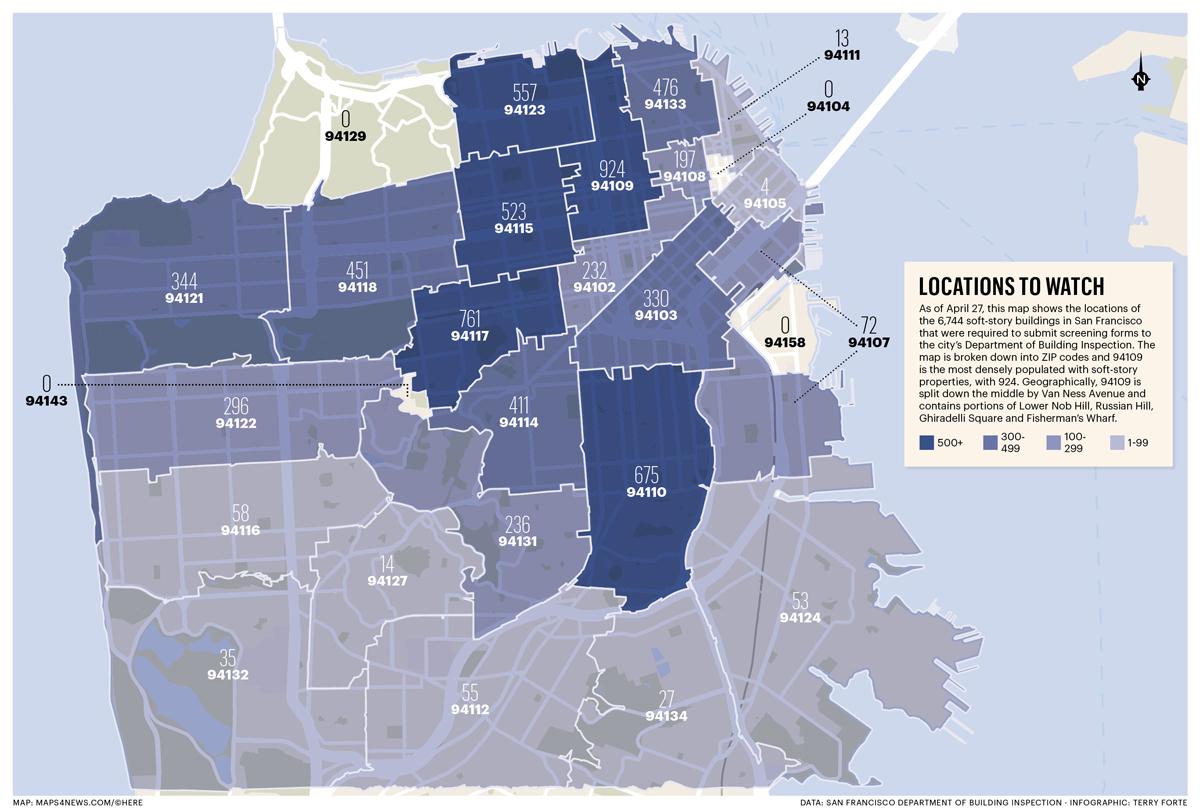 According to SF's Department of Building Inspection, over 13.5% of SF residents live in earthquake-vulnerable housing. This map above shows buildings that are vulnerable, or "soft-story", by zip code. 94109 (Lower Nob Hill, Russian Hill, Ghiradelli Square and Fisherman's Wharf) has the most vulnerable buildings in the city, with 924 soft-story residences.
What is a 'soft-story building'?
Soft-story buildings are those that have parking or commercial spaces on the ground floor and housing above. These buildings are not reinforced on the first floor, and are more likely to collapse in an earthquake. According to the U.S. Geological Survey, there is a 63% chance that an earthquake with a magnitude of at least 6.7 hitting the Bay Area by 2038, so this causes a major problem.
The city is making a push to seismically retrofit these buildings to reinforce them, although only 9% of these vulnerable buildings had been reinforced as of a month and a half ago. 100% of the $60,000-$130,000 price tag of retrofitting is being passed on the tenants, exacerbating San Francisco's housing issue.
What does this mean for me?
Even if buildings are retrofitted, they are still old wood-frame buildings of several stories that are at risk. In an emergency event, the city's response infrastructure won't be able to reach everyone right away, so being self-sufficient is key. SF's Department of Emergency Management asks that all residents prepare for the first 72 hours after a major earthquake by making a plan and having food, water, communication, first aid, hygiene, and other essentials in place.
One of San Francisco's soft-story buildings
Tools & A Plan
If you don't have an Earthquake Bag and a plan in place, get it done today. You need to have food and water for at least a few days, communication and light sources that don't rely on the electric grid (like a hand-crank radio/flashlight/phone-charger), shelter and warmth, first aid, hygiene, and tools and equipment needed in the aftermath of an earthquake. If your house or building has gas lines, get a gas shutoff tool and ziptie it to the turn-off valve.
Additionally, make sure you and your family have a plan. Know where you'll meet after an earthquake. Plan and practice an evacuation route from your home. Designate an out-of-town contact that everyone can connect with, as phone service may be down. Write down and keep copies of the emergency contacts for your area, and your out-of-town contact.
Preparing for a major earthquake really doesn't have to be daunting. Pick up an Earthquake Bag now, take an evening to create a plan for your family or house, and feel better knowing you've prepared!